Incorporated in 1958 as a Government of India fully owned public enterprise. NMDC is under the administrative control of the Ministry of Steel, Government of India.
Since inception involved in the exploration of wide range of minerals including iron ore, copper, rock phosphate, lime stone, dolomite, gypsum, bentonite, magnesite, diamond, tin, tungsten, graphite, beach sands etc.
India's single largest iron ore producer and exporter, presently producing about 30 million tons of iron ore from 3 fully mechanized mines viz., Bailadila Deposit-14/11C, Bailadila Deposit-5, 10/11A (Chhattisgarh State) and Donimalai Iron Ore Mines (Karnataka State). NMDC Projects have following accreditations:
ISO 9001: 2008 - QMS Certification for all its iron ore mines and R&D Centre
ISO 14001:2004 - EMS Certification for all its production mines
OHSAS 18001:2007 - OHMS Certification for all its production mines
OHSAS 18001:2007 - OHMS Certification for all its production mines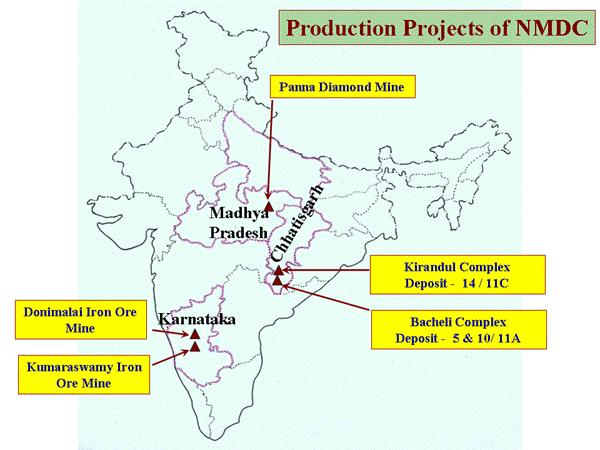 | | | | |
| --- | --- | --- | --- |
| Results | 2011-12 | 2012-13 | 2013-2014 |
| Iron Ore Production (L+F) | 27.26 mt | 27.18 mt | 30.02 mt |
| Iron Ore Sales (L+F) | 27.30 mt | 26.27 mt | 30.50 mt |
NMDC has made valuable and substantial contribution to the National efforts in the mineral sector during the last five decades and has been accorded the status of schedule-A Public Sector Company. In recognition to the Company's growing status and consistent excellent performance, the Company has been categorized by the Department of Public Enterprises as "NAVRATNA" Public Sector Enterprise in 2008.
The story of NMDC is woven around the dreamy hills and the deep jungle land of Bastar in Chhattisgarh, known as Dandakaranya from the epic periods. The Bailadila iron ore range - "The hump of an ox" - in the local dialect, was remote, inaccessible and replete with wild life. The range contains 1200 million tonnes of high grade iron ore distributed in 14 deposits. The entire area was brought to the mainstream of civilization by the spectacular effort of NMDC by opening-up of mines. Today, Bailadila is a name to reckon with in the world iron ore market because of its super high grade iron ore. Bailadila complex possesses the world's best grade of hard lumpy ore having +66% iron content, with negligible deleterious material and the best physical and metallurgical properties needed for steel making.
In the past, NMDC had developed many mines like Kiriburu, Meghataburu iron ore mines in Bihar , Khetri Copper deposit in Rajasthan, Kudremukh Iron Ore Mine in Karnataka, Phosphate deposit in Mussorie, some of which were later handed over to other companies in public sector and others became independent companies.
NMDC is presently producing about 20 million tonnes of iron ore from its Bailadila sector mines and 10 million tonnes from Donimalai sector mines.
Because of its excellent chemical and metallurgical properties, the calibrated ore from Bailadila deposits has substituted the iron ore pellets in sponge iron making and hence became an important raw material for three major gas-based sponge iron steel producers like Essar Steel, Ispat industries and Vikram Ispat. In addition to these three, the entire requirement of the Visakhapatnam Steel Plant is also being met from Bailadila.
The demand for steel will continue to grow in the years to come and this in turn would call for increased demand for iron ore. NMDC is gearing itself to meet the expected increase in demand by enhancing production capabilities of existing mines and opening up new mines - Deposit -11B in Bailadila sector and Kumaraswamy in Donimalai sector. The production capability would increase to around 50 million tonnes per year in coming years.
NMDC is setting up a 3 MTPA Steel Plant at Nagarnar in Chhattisgarh, for which most of the major packages have been finalized and awarded. Orders for major technological packages have already been placed, other auxiliary packages are in advanced stages of finalization and construction works of the major packages are being undertaken on war footing.
For Value addition NMDC is in the process of developing a 3 mtpa steel plant at Jagdalpur and 2 pellet plants at Donimalai (1.2 mtpa) and at Bacheli (2 mtpa). Besides, NMDC has acquired Sponge Iron India Limited with plan for expansion to produce billets.
Besides iron ore, NMDC also plans to go for other minerals like Coal, Diamond, gold etc for which NMDC is looking forward for leases / buy properties from foreign countries directly / under Special Purpose Vehicle / Joint Ventures. For continuing the exploration activities NMDC has set a Global Exploration Centre at Raipur, Chhattisgarh.
NMDC is also investing in development of renewable energy resources as an environment friendly investment. A Wind mill project (10.5MW capacity) has been completed & commissioned at Karnataka.
NMDC, a socially responsible company, believes in engaging its stake holders through a continuous and consultative process towards the fulfillment of its corporate mission and vision which focus on sustainable growth and improvement in the quality of life of its employees and the related communities. Corporate Social Responsibility (CSR) of NMDC is deeply ingrained in its CSR philosophy right from its inception in 1958. The CSR Policy has a holistic triple bottom line approach benefitting the company and the society at large, with particular emphasis on the immediate surroundings of its Projects. It envisages the socio-economic advancement of the community and also adheres to environment-friendly operations as well as socially relevant interventions.
FINANCIALS
(All figures in US$ billion)
2010-11

2011-12

2012-13

2013-14

2014-15

Revenues
(Turnover)

1.89

1.88

1.78

1.82

1.86

Net Income
(Profit After Tax)

1.08

1.21

1.06

0.97

0.97

Net Worth

3.2

4.07

4.58

4.52

4.88
For any other details please visit www.nmdc.co.in